Loader SmartScale (L3180)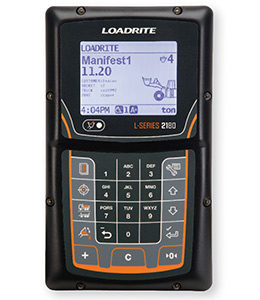 The LOADRITE L2180 is the world's most popular loader scale. more than just an onboard scale. Many leading companies depend their business on L2180. Superior weighing accuracy, powerful data capture capability, operating delay recording, operator performance metrics, batch/blend recipe loading, plus many more advanced functions. It provides an easy way to capture information on your loading process right where it takes place - on the loader.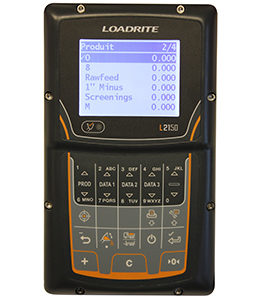 The L2150 is a high precision onboard loader scale, it offers accuracy and reliability with basic data functions. By using multiple-point triggering, speed compensation and dual pressure measurement the L2150 offers high level weighing accuracy regardless of lift speed and loader movement. All you need to know is that trucks will be loaded to the right weight first time.
Loadout Management (LR360)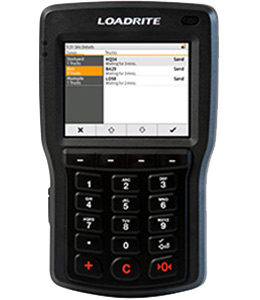 Trimble LOADRITE 360 is a connected quarry solution that can holistically improve loadout operation through performance metric tracking, job data automation, and real-time 360º job visibility. LR360 connects the loader and scale house to provide data sharing of loadout jobs which result in greater efficiency, improved visibility and higher product sales.
Construction Excavator Scales (X2350)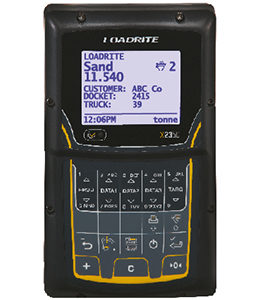 The Trimble LOADRITE X2350 is an excavator productivity weighing system that helps optimize mass-haul and other loading operations, through payload tracking and real-time material movement visibility. With the X2350, your operators are more confident to maximize every truck loads, and the site foreman is empowered to make changes during the shift. Every truck loads, every bucket can be logged, creating traceable records for project record, auditing, or contract invoicing.
Mining Excavator Scales (X2650)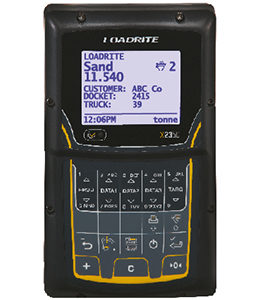 The LOADRITE X2650 measures payload on up to 880 ton excavators. It is the most effective tool for large hydraulic excavators to improve face and pit productivity, providing bucket-by-bucket payload information to optimize pit loading and haulage. X2650 is an essential tool to measure and monitor the actual TPH at the Pit.
Material Management Solutions (MMS)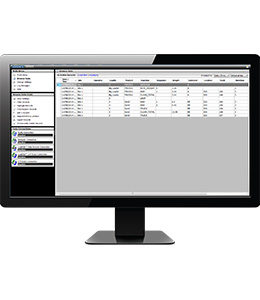 With the Trimble LOADRITE Material Management System installed on your computer you can turn your Trimble LOADRITE onboard scale into a business management tool. MMS enables you to gather load data from your Trimble LOADRITE scale and transfer it across your site in a secure, paperless manner. The recorded information can be used for inventory management, product tracking and identifying bottlenecks in your operation.
Reach Stacker Scales (L2180)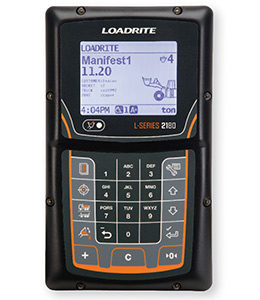 Ensure compliance to SOLAS regulations, track and improve container handling with accurate weight information. The Trimble LOADRITE L2180 weighing system verify the weights of every container moved, so you can provide accurate information for logistics compliance and reporting. The weight information can also be used to analyze your operation for efficiency improvement and maintenance cost reduction.
Compact Machine Scales (S1100)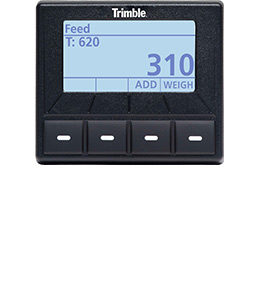 The Trimble S1100 is an on board scale provides an accurate in-cab payload measurement for compact machines. Weighing with the S1100 helps the operator to accurately weigh every lift, prevent overloading and manage stock. So you can improve safety and profitability through increased efficiency and accuracy. The S1100 is suitable for use on tractors, forklifts and skidsteers, across a range of machine sizes, brands and models.
Tractor and Forklift Scales (Sprint)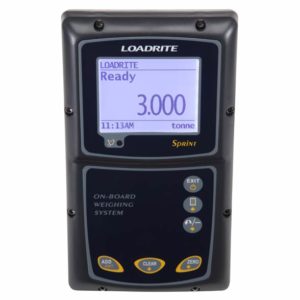 The LOADRITE Sprint is a smart business investment that provides basic weighing for compact machines, tractors and forklifts. The simple six-key interface makes the Sprint great value-for-money. By accurately weighing and helping to correctly load products, the LOADRITE Sprint helps to load safely and accurately in operations that don't need data management capabilities.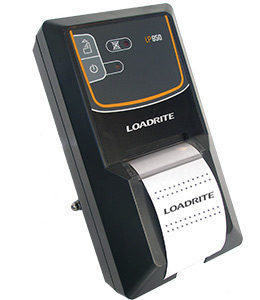 The LOADRITE Printer is compatible with every LOADRITE onboard weighing system. This direct plug-in accessory delivers time-stamped and dated hard copies of all weighing information instantly. Using data stored in the console memory more detailed reports can also be produced depending on the model, such as: Shift, daily or weekly accrued totals, Product usage, and KPI reports.